Brochure
Discover our PDF brochure of the year 2020
EBA's manufacturing department uses the latest technological advances and innovative methods to produce top quality products.
Are you looking for an economical solution for bending, bending and rolling? EBA's bending department may be the answer. Our equipment and technology enables us to create rapid prototypes and produce small series without sacrificing the quality you expect from the BTD. See our list of manufacturing equipment for more details on how we are ready to help you with your lightweight manufacturing needs.
Sheet metal folding
EBA Metal Industry offers custom folding services for parts cut using CNC folding press
Ermakson
Capacity : 100 tonne
Sheet thickness up to 8 mm
Length : 2700 mm

AMADA
Capacity : 100 tonne
Sheet thickness up to 20 mm
Length : 2800 mm
Bending
EBA metal industry is an expert in bending profiles in U tube, flat iron and square iron.
Cold bending on a 3-pebble machine consists in distorting the metal (round tubes, square tubes, cornering profiles, U and I) by a 3-pebble system adapted to the profile that must be bent and tightened more or less according to the radius to be obtained. The system requires a lot of experience on the part of the operators in order to obtain a perfect geometry of the deformation.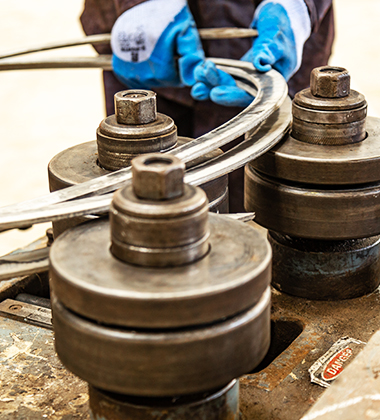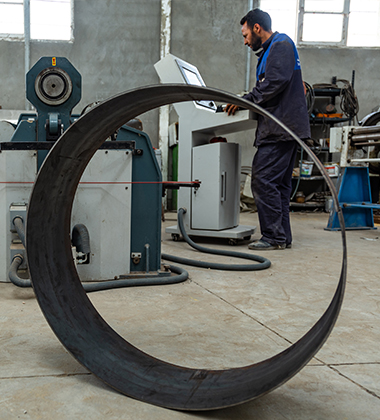 Rolling
At EBA Metal Industry, we are very proud of our cutting edge plate rolling services. Unlike most of our competitors, EBA Metal Industry is not limited to the simple formation of cylinders. Help our CNC rolling machine We excel in more complex forms of sheet roll, and roller folding. One of the main advantages of working in a well-trodden path, and that CNC machine machining allows the metal industry EBA to perform special tasks such as multi-ray rolling!, large ratting and complicated parts.